Malito & Albany Team One of the Top 60 NYS Lobbying Firms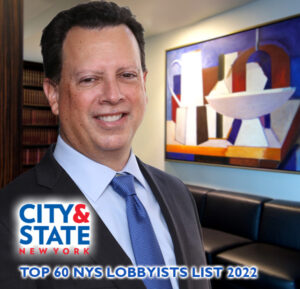 August 22, 2022 – Steve Malito, Partner and Chair of the Government Relations group's NYS team and the Cannabis Law practice, along with members of the Government Relations team were recognized again this year by City & State Magazine for their Top 60 New York State Lobbyists 2022 list.
Joining Steve and the team in Albany, working on major legislative initiatives and funding efforts for businesses, trade associations, non-profits, municipalities, education, entertainment, and institutional clients were Nick Antenucci, Nicole L. Weingartner, Bianca Rajpersaud, John Kiernan, Sean E. Crowley, Charles Capetanakis, Melissa Chapman, — as well as our head of Strategic Planning, Keith L.T. Wright (a 23 year veteran of the NYS Legislature and Chair of the New York County Democratic Committee) who serves in an advisory role.
Missed the list? Click here to read.