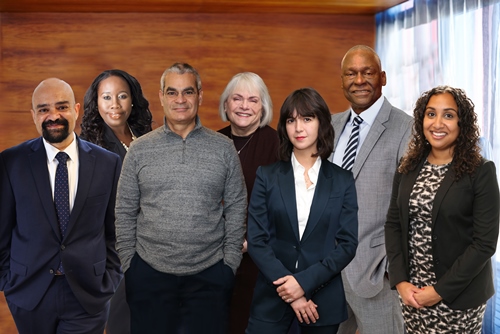 CREATING A CULTURE THAT IS DIVERSE, EQUITABLE & INCLUSIVE

As an organization, Davidoff Hutcher & Citron LLP (DHC) maintains an inclusive, multi-dimensional firm culture where diversity, equity and inclusion are demonstrated across our teams and operations. DHC is committed to attracting and retaining individuals with diverse skills, experiences and backgrounds to offer the highest level of service to our clients.
We firmly believe that our diversity spurs legal innovation in the matters we are engaged in, drives much of our firm growth and adds value for our people and our clients. As a professional services firm that provides transactional legal counsel, complex litigation strategies and government affairs representation, we represent a diverse clientele; diverse in viewpoints, services and industries. Our diversity extends to our vendor relationships, strategic partnerships, pro bono legal matters and more.
We stand for equal opportunities and treatment of everyone, creating a work environment that is engaging, respectful and welcoming for all employees, with opportunities for personal and professional development. As a client of DHC, you receive the benefit of our diversity, equity and inclusion, through our multi-cultural attorneys and staff, whose unique backgrounds, talents, beliefs and capabilities are leveraged to solve clients' biggest legal and government relations challenges.
Our firm has an ongoing commitment to DEI principles in virtually everything that we do. We are New York-based, and that means we should be representative of New York. Our firm's DEI Committee meets monthly to assess our progress in regard to our initiatives to maintain a diverse, equitable and inclusive workplace, embracing all employees' concerns. In fact, our DEI committee members represent a cross-section from our workforce including Practice Leaders, Partners, Paralegals and Office Staff with some members having emigrated to the US representing cultures from South America, Puerto Rico, Africa, India, Italy and Ukraine. We welcome working with a wide range of diverse businesses and their constituents. Particularly, in the not-for-profit sector, our clients are some of the most diverse in the state and they are the most rewarding to work with.
Since our firm was founded in 1975, we have always made a concerted effort to interview and hire BIPOC. We have a long history of hiring and promoting a diverse group of people on all levels of our business. This active process continues along with regular efforts to include diverse applicants to any procurement opportunities that may arise from our firm.
Please contact us with any questions you have about the firm.
We look forward to working with you.