Judith A. Ackerman is a divorce lawyer for Davidoff Hutcher & Citron's Divorce and Family Law group working in the firm's New York City office.
Ms. Ackerman has over thirty-five years of legal experience and extensive skills in litigating complex matrimonial matters. Ms. Ackerman's practice encompasses all aspects of divorce and family law, including pre-nuptial or post-nuptial agreements, divorces (custody, visitation, support, and equitable distribution), appeals, modification and post-judgment enforcement proceedings, legal separation, and relocation matters.
Ms. Ackerman graduated from Brooklyn Law School where she was a member of the Moot Court Honor Society.
Ms. Ackerman was also a paralegal for the New York State Commission on Judicial Conduct.
NOTABLE CASES
Khaira v. Khaira, 93 A.D.3d 194 (1st Dept. 2012)
Zafran v. Zafran, 28 A.D.3d 752 (2d Dept. 2006)
DESIGNATIONS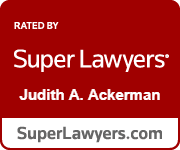 Recognized and rated by Super Lawyers in 2022