12 DHC Attorneys Honored as 2021 Super Lawyers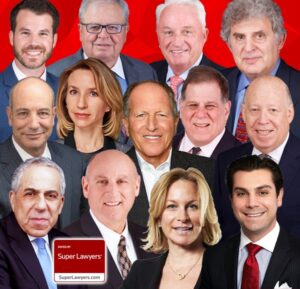 October 1, 2021 — David Hutcher & Citron is proud to announce that 12 of our attorneys were selected for the 2021 New York Metro Super Lawyers Magazine, which recognizes New York's top legal professionals.
Co-managing Partner and Commercial Litigation practice chair Larry Hutcher was recognized for the ninth time and eighth consecutive year. Senior Partner Howard Weiss was honored as a Super Lawyer in the Land Use/Zoning category.
Partners Michael Wexelbaum and Robert Costello were recognized as Super Lawyers in the General Litigation and White Collar categories, respectively. Associate Matthew Yogg was recognized as a Rising Star.
Bankruptcy Partners Bob Rattet (ninth year), Jon Pasternak (14th year), and Of Counsel, Jim Gluckman (eighth year) were all recognized,
Corporate law practice chair, Elliot Lutzker was recognized for the eighth year as was the Healthcare law practice chair, Derek Wolman.
The firm's Divorce & Family Law Group was recognized two times in the Family Law category, with Matrimonial Law Chair Leslie Barbara honored as a Super Lawyer, and Partner Adam Citron named as a Rising Star.
"We are pleased to have so many of our attorneys included in the 2021 New York Metro Super Lawyers list. Each of them is a leader in their respective practice area and they are more than deserving of the Super Lawyers distinction," said Jeffrey Citron, Co-Managing Partner of DHC. "To have so many of our talented attorneys honored for their professional excellence is a testament to the expertise and dedication our firm is proud to offer all of our clients."