2022 Brings New Growth for Davidoff Hutcher & Citron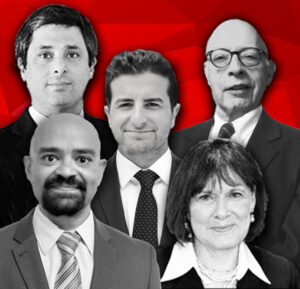 January 23, 2022 – Davidoff Hutcher & Citron LLP (DHC), a leading New York-based commercial litigation, government relations, corporate and matrimonial law firm, has announced that four new attorneys are coming on board to expand the firm's Real Estate, Employment, Trusts & Estates and Divorce & Family Law practice groups.
"Although the pandemic has caused many businesses to pause or contract, I am proud that DHC is continuing to grow with the hiring of these four new attorneys, adding two new Partners, who bring deep legal knowledge and seasoned experience to their respective fields," said Jeffrey Citron, Co-Managing Partner.
Veteran divorce and matrimonial attorney Patricia Ann Grant joined the firm as a Partner in the Divorce and Family Law practice. Over the past 35 years, Grant has successfully tried cases in Family, Supreme, and Appellate Courts. She is a trained Mediator and Collaborative Law practitioner, who currently serves as an Advisory Board Member of the New York Women's Bar Association, as well as on the Supreme Court's Neutral Evaluation Panel.
"I am thrilled to join DHC as a Partner, where I will work with respected colleagues and be able to offer my clients all this full-service firm has to offer," said Grant.
DHC's Real Estate practice group welcomed Ian J. Brandt as a Partner in the practice, and David Levine as an Associate.
Brandt has been practicing real estate law since 2003, representing landlords, tenants, business owners, and other stakeholders in a variety of matters relating to both residential and commercial real estate. His practice includes negotiating residential and commercial tenant buyouts, Corporate Governance and Tort claims, legal malpractice actions and lawsuits related to the Americans with Disabilities Act, among others.
Levine joined DHC following a stint at a boutique law firm specializing in commercial and residential real estate. He has conducted and piloted several multimillion-dollar transactions, handling every aspect from negotiating terms more favorable to the client, to ensuring execution of all pertinent documents on the closing date. Levine has also assisted clients in alternative business entity formation and reformation, in connection with purchasing or refinancing their property interests.
Also joining the firm as a Litigation Associate in our Trusts & Estates Law practice is Ashwani Prabhakar. Seasoned in trusts and estates litigation, Ashwani served for five years as Principal Law Clerk for Judge Margarita Lopez Torres of NY Surrogate Court. Ashwani shares his thought leadership with trusts and estates attorneys as a CLE (Continuing Legal Education) instructor, he has also published articles in the NY Law Journal and NYS Bar Association's Trusts & Estates magazine and served as an adjunct professor at New York Law School. Ashwani is admitted in New Jersey and New York; both the Federal Southern District of New York and Eastern District of New York.
Finally, Michael W. Appelbaum will serve as Of Counsel in the firm's Employment Law practice. Appelbaum is a celebrated labor lawyer who has represented employers in various industries in their collective bargaining negotiations with labor unions, in addition to handling arbitrations and mediation proceedings. He has tried numerous cases and appeals at the National Labor Relations Board and holds the distinction of being the first man to serve on the Board of Directors of the New York Women's Bar Association.
Davidoff, Hutcher & Citron LLP is a full-service law and government relations firm with over 60 professionals and offices in Manhattan, Albany, White Plains, NY, Washington, D.C., and Palm Beach, Florida. Since 1975, the firm has successfully represented and served the needs of clients including Fortune 500 companies, business leaders and entrepreneurs, trade associations, non-profits, financial institutions, intellectual property owners, major real estate owners and developers, medical professionals, restauranteurs, and high net worth individuals.