Is New York's Civil Rights Law a Backstop to MSGs Efforts to Ban Adverse Counsel?
By Joseph N. Polito | Commercial Litigation
Over the past several months, Madison Square Garden Entertainment Corp. ("MSG") has garnered significant attention – and derision – for its decision to ban all of the lawyers from any law firm that represents a client adverse to MSG from all of its venues in both New York City and Chicago. These venues include iconic locations such as Radio City Music Hall, the Chicago Theatre, the Beacon Theatre, the Theatre at Madison Square Garden (formerly the Hulu Theatre), and none other than Madison Square Garden, the World's Most Famous Arena ("MSG Venues"). However, MSG is not the first venue operator to target perceived enemies in this way. In fact, the tactic that MSG is deploying now is nothing short of history repeating itself in New York.
At the turn of the twentieth century, New York theatre companies, such as the Shubert Theatre, barred theatre critics from entering their respective venues for writing negative reviews. At that time, venue operators were only precluded from barring entrants on the "account of race, creed or color, or that the patronage or custom thereat, of any person belonging to or purporting to be of any particular race, creed or color."[1] The New York Court of Appeals confirmed this in Woollcott v. Shubert, 217 N.Y. 212 (1916) where the court addressed whether a venue operator can lawfully exclude a person for non-discriminatory reasons. The court in Woollcott determined that New York Civil Rights Law ("NYCRL") §40 ("NYCRL §40") offered no protection to a New York Times dramatic critic who had published a criticism of a Shubert Theatre production and was subsequently banned for it.
As a direct consequence of the court's decision in Woollcott and the unfettered ability of venue operators to arbitrarily ban a ticketed person for any non-discriminatory reason, the New York legislature enacted NYCRL §40-b. On its face, the plain statutory text of NYCRL §40-b requires admission of any person over the age of twenty-one years who presents a ticket of admission to the performance a reasonable time before its commencement.[2] Only if that person engages in offensive conduct or speech does the venue operator have grounds to deny admission. Leonard Lyons, who wrote The Lyons Den for the New York Evening Post, celebrated NYCRL §40-b's enactment: "It marks the end of an era – a long era, during which many newspaper men and critics were barred from the New York theatres because their writings had found disfavor with theatre owners or producers."
The constitutionality of NYCRL §40-b was affirmed in Christie v. 46th St. Theatre Corp., 255, 256 (3d Dept. 1942). In Christie, the appellate court upheld the lower court's decision that NYCRL §40-b was violated when the defendant theatre owner barred the plaintiff with a ticket of admission from entering the performance. The decision in Christie, affirmed by the New York Court of Appeals, made clear that certain venue operators claimed the common law right of absolute control over entrants to its venues had been abrogated. Indeed, admission for ticket holders to the venues enumerated in the statute became mandatory as long as that ticketed person was not engaged in any offensive conduct or speech.
MSG's practice of banning adverse counsel from entering MSG Venues evokes the strategies employed by theatre companies over a hundred years ago and, as a result, NYCRL §40-b has been revived to address the propriety of MSG's actions. By way of background, in mid-2022, any law firm that was engaged in litigation against MSG was banned from entering MSG Venues until the underlying litigation is completed pursuant to an internal MSG policy. By the end of 2022, over ninety law firms were on MSG's banned list. The parallels between MSG's policy and what theatres had done to disparaging critics in the early twentieth century are uncanny.
Some of the law firms targeted by MSG's policy pushed back, led by Davidoff Hutcher & Citron LLP ("DHC"), which sought protection under NYCRL §40-b in the fall of 2022 by filing an order to show cause seeking injunctive relief inter alia under NYCRL §40-b. On November 14, 2022, a limited preliminary injunction was secured under the statute[3] that enjoined MSG from denying DHC's attorneys access to MSG Venues when such venue is holding a theatrical performance or musical concert, so long as the attorney presents a ticket of admission on the day of the event after the venue opens to the public.
DHC commercial litigation attorney, Benjamin Noren, banned from MSG. Photo Credit: Gili Benita for The New York Times.
In granting the preliminary injunction, the trial court determined that NYCRL §40-b was applicable since the statute created an explicitly limited exception to the claimed common law ability of venue operators to exclude ticketed persons for any non-discriminatory reason. The only permissible reason to exclude a ticketed person under the statute was for offensive conduct and/or speech. Otherwise, for the venues specified within the statute, admission is mandatory.
However, the trial court did exclude sporting events from the preliminary injunction on the basis that sporting events are not the type of events contemplated by NYCRL §40-b. The statute only applies to legitimate theatres, burlesque theatres, music halls, opera houses, concert halls, and circuses. Although the statute only enumerates venue types, the trial court's determination made a distinction as to event type, i.e.: sporting versus non-sporting. In essence, Madison Square Garden (the "Garden") was bifurcated to permit DHC attorneys to attend a Billy Joel concert, but not a New York Knicks game.
Clearly, the venues of today do not squarely fit into the venue categories that are enumerated in NYCRL §40-b. The statute does not account for a venue such as the Garden, a multi-purpose arena that hosts a wide array of events that cause it to qualify as a music or concert hall many days out of the year. More importantly, the statute itself does not dictate what the venue itself can host, only venue types. However, the few New York cases that have applied NYCRL §40-b have determined that baseball grounds, horse racetracks, and movie theatres are excluded. Therefore, the implication is that sporting events are not covered by NYCRL §40-b.
Once more, New York history has a role to play. The legislative history accompanying NYCRL §40-b suggests a significant concern over illegal bookmaking and other societal ills making the idea of mandatory admission problematic for certain venues such as horse racetracks. However, those concerns are not as prevalent today with, among other things, the advent of legal sports betting.
MSG appealed the grant of the preliminary injunction to the Appellate Division, First Department, which agreed with MSG's argument that injunctive relief was not available for a violation of NYCRL §40-b. On this limited ground, the First Department vacated DHC's preliminary injunction,[4]  determining instead that the firm was limited to the remedies prescribed in NYCRL §41. Under this statutory framework, any violation of NYCRL §40-b is limited to a civil monetary penalty not to exceed five hundred dollars. There is also a criminal component, upon conviction, a misdemeanor charge that carries a penalty of up to ninety days imprisonment, in addition to a monetary penalty not to exceed five hundred dollars.
Although the First Department vacated DHC's preliminary injunction, the First Department, importantly, determined that they are afforded the protections under NYCRL §40-b. The First Department held that the trial court properly concluded that NYCRL §40-b requires MSG Venues to allow admission for theatrical performances and musical concerts to DHC attorneys with valid tickets of admission. The First Department did, however, continue the exclusion of sporting events. In doing so, the court acknowledged that the Garden is a multi-purpose arena, but one that can be bifurcated based on event types.
In short, MSG's policy that bans adverse counsel with tickets of admission to certain events from MSG Venues is violative of NYCRL §40-b; however, the remedy is limited to the civil and criminal penalties that are prescribed in NYCRL §41.
The First Department's decision was further cemented a few months later when the same trial court that granted DHC a preliminary injunction determined that an individual attorney's right of admission under CRL §40-b had been violated when he was denied entry to a musical performance on the sole basis of being a banned attorney. The trial court in granting partial summary judgment held that MSG was liable for the maximum penalty allowed under the statute as well as a refund for the ticket based on MSG's continued and knowing violation of CRL §40-b.
Although these recent decisions crystalize the applicability of NYCRL §40-b to the bans faced by DHC and other firms, it may not be a sufficient deterrent when considering the simple fact that MSG is a multi-billion-dollar corporation that can easily absorb countless five-hundred-dollar fines. The most effective way to address these statutory shortfalls is with a legislative solution that modernizes the existing laws to take into account the current realities of sports and entertainment venues, how they operate, and how they should be meaningfully penalized. This includes addressing the inclusion of sporting events in NYCRL §40-b, since venues such as the Garden are multi-purpose venues that were not in existence in the 1940s, as well as increasing the existing statutory penalties under NYCRL §41 to fulfill its purpose as a true deterrent when ticket prices themselves can easily exceed $500.
Though NYCRL §40-b has some shortfalls, it is one of the few statutory protections available to prevent MSG, and other venue operators, from wrongfully excluding ticketed persons for nondiscriminatory reasons. Without a modernized and updated NYCRL §40-b, anyone over the age of twenty-one who just wants to enjoy a night out and take in a show or a sporting event can fall victim to the whims of corporate ownership for any non-discriminatory reason which makes this issue much broader and should raise societal concerns.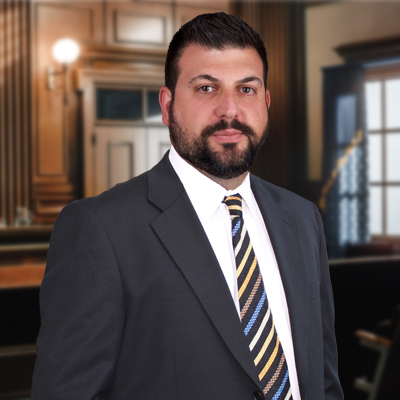 Joseph N. Polito is an attorney in Davidoff Hutcher & Citron's Commercial Litigation group, where he practices out of the firm's New York City office. He represents companies, as well as individuals, in complex commercial and real estate litigation, guiding clients through every stage of the litigation process as well as alternative dispute resolution, including mediations and arbitrations.
[1] See Woollcott v. Shubert, 217 N.Y. 212, 218-19 (1916) (citing to NYCRL §40.)
[2] NYCRL §40-b.
[3] See Hutcher v. Madison Square Garden Entertainment Corp., 2022 WL 16924087 (Sup. Ct. N.Y. Cnty. 2022.)
[4] See Hutcher v. Madison Square Garden Entertainment Corp., 214 A.D.3d 573 (1st Dept. 2023.)