Leslie F. Barbara is the Chair of Davidoff Hutcher & Citron's Divorce & Family Law practice. With over 20 years of experience representing a wide-ranging network of high-profile clients, Leslie Barbara is one of the most celebrated matrimonial and family lawyers in New York. She handles all aspects of divorce and family law litigation including:
Custody and Visitation
Complex Business Valuations
Divorce
Equitable Distribution
Prenuptial and Postnuptial Agreements
Separation
Ms. Barbara has tried matters in both Supreme and Family Courts and has argued before the Appellate Division. She has also successfully handled matters involving international custody disputes and abduction cases.
When her clients utilize assisted reproductive technologies, whether as intended parents or surrogates, Ms. Barbara represents their interests. She has a comprehensive understanding of the Child-Parents Security Act (CPSA), which legalized compensated gestational surrogacy in New York.
Ms. Barbara focuses on the representation of high-profile and high-net-worth clients, including celebrities, professional athletes, restaurateurs, chief executive officers, and their spouses. She has extensive experience and is often called upon to comment on issues about divorce ranging from the recent trends in custody, the structuring of sophisticated financial settlements, to the potential fallout of a celebrity divorce. Ms. Barbara is a 2021 Super Lawyer and has been nominated for Crain's Notable Woman in Law for 2021.
Publications

Speaking Engagements 
Designations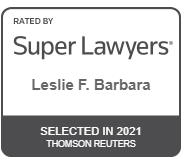 Recognized and rated by Super Lawyers in 2021