May 11, 2020 – Today, Governor Cuomo announced that NY Pause will be lifted and the NY Forward process will begin.  The Governor has provided the following guidance as it relates to NY Forward:
https://www.governor.ny.gov/sites/governor.ny.gov/files/atoms/files/NYForwardReopeningGuide.pdf
The first 3 regions of the State that have met the reopening criteria set forth by the Governor and will begin the NY Forward process starting this Friday are:
Finger Lakes
Mohawk Valley
Southern Tier
Each of these regions will begin Phase 1 of the reopening process.  The phased approached was detailed in our last update, and more information regarding Phase 1 can be found here:
https://forward.ny.gov/industries-reopening-phase
Other regions of the State still need to meet all seven of the criteria that the Governor has outlined.  Here is a look at where the regions stand in terms of meeting the criteria for reopening: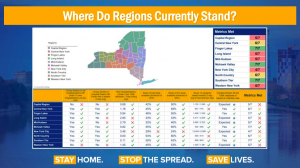 If you have questions regarding your business and/or region, please do not hesitate to contact us.