Matthew R. Yogg is an attorney at Davidoff Hutcher & Citron in the Commercial Litigation group, where he specializes in:
Matt also consults and advises on issues concerning antitrust law, IP licensing, healthcare law, commercial real estate, corporate compliance and the control of distribution channels and gray markets.
Notable Matters & Client Engagements
One of two attorneys representing a 6,000-member plaintiff-collective, achieving one of the largest ever Equal Pay Act settlements, valued at $83.3 million.
Responsible for securing various favorable judgments for his clients, including one judgment via damages trial for over $15 million.
Consulted and advised on agreements and issues concerning trademark licensing, commercial leasing, corporate compliance and antitrust compliance for major internationally renowned crystal glassware companies and fashion designers.
Designations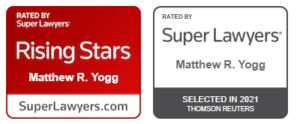 Recognized and rated by Super Lawyers in 2021