Josh Krakowsky is a senior business litigator and Partner for Davidoff Hutcher & Citron's Commercial Litigation group in the firm's New York City office. Mr. Krakowsky has more than twenty years of experience in a variety of commercial litigation matters, with a focus on contractual disputes, fiduciary obligations, restrictive covenants, and corporate divorce.
Josh has significant trial and appellate experience and is fully versed in all aspects of discovery and trial in federal and state courts, as well as private arbitration and mediation. Clients appreciate his candor, tenacity, and ability to achieve the client's goals effectively and efficiently.
Prior to joining Davidoff Hutcher & Citron, Mr. Krakowsky developed a broad background as a litigator at Dechert LLP, where he practiced complex commercial litigation, securities litigation, bankruptcy litigation, and product liability litigation.
NOTABLE CASES
DLA Piper (US) v. Victor, Index No. 650374/2012 (Sup. Ct. N.Y. Co. 2012), which was reported on the front page of both the New York Times and the New York Law Journal on March 26, 2013, one of the biggest legal stories of the year: Suit Offers a Peek at the Practice of Inflating a Legal Bill
Successful representations of various business owners litigating corporate divorces.
Successful representations of both employers and employees concerning violations of restrictive covenants including non-compete agreements and theft of confidential information.
Successful representations in collection matters, including representing both creditors and debtors.
Successfully represented President Trump's former chauffeur asserting Labor Law claims.
AWARD & HONORS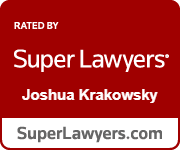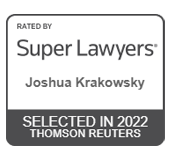 Selected as a "Rising Star" for business litigation in Super Lawyers for five years (2012, 2013, 2014, 2015, 2016) and selected to Super Lawyers in 2022.
Personal Quote
"Whether the glass is half-empty or half-full is irrelevant since it is refillable."