John P. Corrigan is an attorney and Certified Public Accountant (CPA) (and formerly a Certified Financial Planner (CFP) and Certified Valuation Analyst (CVA)) who serves as Of Counsel to Davidoff Hutcher & Citron's Trusts & Estates and Corporate Law practices. John utilizes his extensive 30-year legal, business, tax and financial experience to help clients with a myriad of business, legal and financial matters including contracts, M&A and formational transactions, executive compensation agreements, corporate, LLC and personal income tax planning and wills, trusts and estates. He represents multi-billion-dollar international corporations (public and private) as well as start-up companies and family-owned businesses in a diverse multitude of corporate and personal matters. John has authored many M&A articles as well as a lectured at annual conferences and webinars on M&A and business succession/exit topics.
John's unique background in law and accounting, combined with an MBA, allows him to bring a unique perspective to complex business matters, setting him apart from professionals who may have significant experience, but in just one discipline. Frequently called upon by other legal, accounting, insurance and financial firms, John assists on matters that require his unique experience, complimenting other advisors on some of their most difficult client engagements.
From 1996-2006, John founded and managed The Breakwater Group, LLC, a boutique consulting firm that provided multi-faceted business planning, financial and tax consulting and business valuation services for private companies and high-net worth individuals, including publishing, insurance brokerage, employee benefits, paper recycling, telecommunication manufacturing, commercial real estate, pharmaceutical, computer consulting, sports marketing, food distribution and environmental services.
Prior to Breakwater, John served as Vice President, Corporate Secretary and Tax Counsel of White River Corporation, a publicly traded investment holding company from 1992-1996. While at White River, John worked closely with executive management in the development of complex legal and financial strategies and was responsible for all legal, tax and employee benefit issues, including acquisition due diligence, divestiture of non-strategic operations, the design and implementation of several executive compensation plans and SEC regulatory compliance relating to White River's money management operations. He also was a key player in several tax related legislative and lobbying initiatives in Washington, DC.
From 1989-1992, John was the Assistant Tax Director of Frank B. Hall & Co., formerly a NYSE-listed company and one of the nation's ten largest international insurance brokerage and benefit consulting organizations. While at FBH, John designed and implemented tax strategies for the company's foreign and domestic operations. He was also a key contributor in the firm's M&A activities. FBH had over 100 subsidiaries worldwide.
John began his career as a Senior Tax Manager at Touche Ross & Co., a predecessor firm to Deloitte (1982—1989), one of the world's largest international accounting and consulting firms. While at Touche Ross, he specialized in the development of complex tax planning strategies for large public and private multinational corporations, as well as for high-net-worth individuals. While at Touche, John served clients in the financial services, manufacturing, petrochemical, pharmaceutical, publishing, manufacturing and real estate industries.
Designations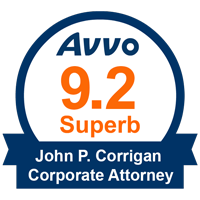 John is rated 9.2 (Superb) by Avvo, has received over thirty 5-star reviews and has answered over 3,000 legal questions on their site, click here to view his page.