CLIENT FOCUS: Gillibrand Tours Hunts Point Produce Market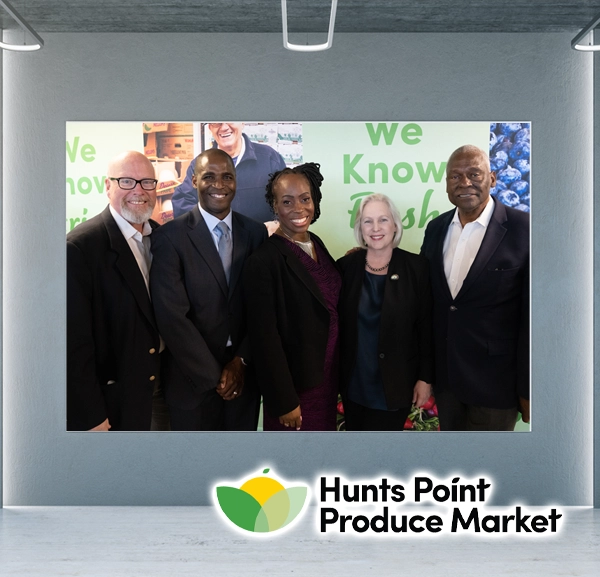 On April 11, 2023 – Keith L.T. Wright, Director of Strategic Planning and Sean Crowley, Partner in our Government Relations practice were on-hand at our client, Hunts Points Produce Market, when they hosted U.S. Senator Kirsten Gillibrand who toured the massive complex to gain a better understanding of the market, which provides produce up and down the east coast.
The Market is located in the South Bronx, which also happens to be one of the nation's largest food deserts, where more than 40% of its residents live in poverty.
In an effort to end food deserts here, Senator Gillibrand is looking to include a health initiative that increases access to healthy foods for food deserts like the South Bronx and boost annual mandatory funding to $50 million by 2028.

Sen. Gillibrand said "My legislation aims to create more funding for bodegas and markets to be able to offer healthy, nutritious food to communities that are often left behind in our food deserts. A lot of places like the Bronx don't have grocery stores, and without grocery stores in walking distance or without more resources given to smaller community stores like bodegas, the citizens are not going to get access to the food they need."
According to the city's health department, the Hunts Point district has a 20-to-1 ratio of bodegas to supermarkets. According to a recent report from NYS Comptroller Tom DiNapoli, approximately 800,000 New York state households faced food insecurity between 2019 and 2021.