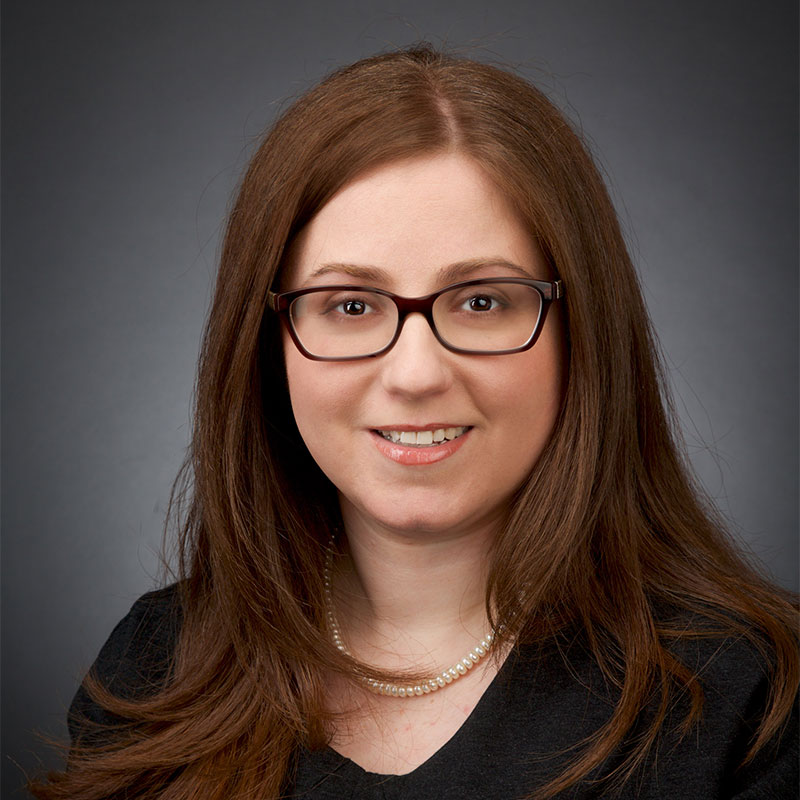 Eve Helitzer is an associate in the firm's Divorce and Family Law practice areas. Ms. Helitzer's practice focuses in all aspects of divorce and family law, including pre-nuptial or post-nuptial agreements, divorces (custody, visitation, support, and equitable distribution), appeals, modification and post-judgment enforcement proceedings, legal separation, and relocation matters. She also handles custody and property disputes involving unmarried parties. She has worked on high net-worth cases ranging from long term marriages and complex asset and valuation issues, to short term marriages with relatively few assets.
In addition to being a seasoned litigator, Ms. Helitzer is a trained mediator who utilizes alternative dispute resolution mechanisms, and works with mediators, parent coordinators, therapists, forensic accountants, and other professionals to assist families in resolving custody and financial disputes outside of Court.
Prior to joining DHC firm in August 2013, Ms. Helitzer was a matrimonial and family law associate for five years with Moses & Ziegelman, LLP, and prior to that was a matrimonial and family law associate for two years at Saltzman, Chetkof & Rosenberg, LLP.
While attending law school Ms. Helitzer served as a student advocate through the child advocacy clinic at Hofstra University representing children in abuse and neglect proceedings.
Ms. Helitzer is a member of the Matrimonial Law Committee, Litigation Committee and Legislative Committee of the New York Women's Bar Association.
Notable cases:
Khaira v. Khaira, 93 A.D.3d 194, 938 N.Y.S.2d 513 (1d Dept. 2012)
Smith v. Smith, 66 A.D.3d 584, 888 N.Y.S.2d 14 (1d Dept. 2009)
Harari v. Davis, 59 A.D.3d 182, 871 N.Y.S.2d 907 (1d Dept. 2009)
Siskind v. Schael, 62 A.D.3d 805, 879 N.Y.S.2d 504 (2d Dept. 2009)
Friedman v. Roman, 65 A.D.3d 1187, 885 N.Y.S.2d 740 (2d Dept. 2009)
Publications:
Ms. Helitzer was quoted in a Market Watch article entitled, "10 Things Married Couples Won't Tell You." The article covers ten marriage trends that redefine the ways couples tie the knot. Ms. Helitzer discusses how many couples sign prenuptial agreements before marriage. People are generally waiting to marry later in life which results in the accumulation of a larger quantity of vulnerable assets prior to marriage. A recent survey of American Academy Matrimonial Lawyers shows that an increase in prenuptial agreements has been seen by 63% of its 1,600 attorneys surveyed. For the full article, click here.
Ms. Helitzer was cited in USA Today's article entitled, "Protect Finances in Later-In-Life Divorce." The article highlights six important factors older couples should consider and carefully evaluate when seeking divorce. Ms. Helitzer stresses the importance of allowing collateral attorneys and financial advisors of a party to speak with their divorce attorney when a party chooses to pursue a divorce with litigation. For the full article, click here.
Ms. Helitzer helped draft and prepare the chapter entitled Basic Tips for Family Law Attorneys and Their Clients in the Ever-Changing World of Family Law in Strategies for Family Law in New York (Aspatore-2012).
Ms. Helitzer in her previous employment helped prepare the New York State Bar Association Family Law pamphlet for the Committee on Public Relations in cooperation with the Family Law Section.
Recognized as a New York Metro Rising Star 2014-2016
Brandeis University, BA Anthropology and Fine Arts (double major) 2003
Hofstra University School of Law, JD 2006
Center for Divorce Mediation, 40 Hour Divorce Mediation Training, 2012