2022 Brings New Growth for Davidoff Hutcher & Citron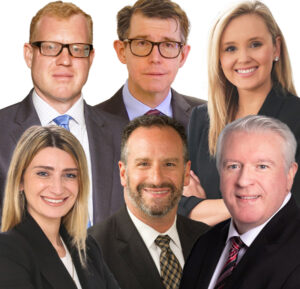 June 17, 2022 – DHC is proud to announce that six new attorneys have joined five of our practice areas. Join us in welcoming them to the firm, meet:
Alexander P. McBride – Senior Counsel, seasoned in complex securities and structured finance litigations, SEC and DOJ investigations, congressional inquiries and Chapter 11 adversary proceedings, Alex joins Commercial Litigation.
Myron B. Rabij – Senior Counsel, who lived in Kyiv, Ukraine for 22 years and is fluent in English, Ukrainian and Russian, he offers extensive and varied cross-border transactional experience in Central and Eastern Europe, representing U.S., Canadian, European and other clients, Myron joins our Corporate Law practice.
Caroline L. Hall – Associate and a fierce advocate who is artful in navigating the legal complexities of divorce proceedings, and brings compassion to the most challenging mediations, Caroline joins Divorce & Family law.
Nicole G. Santo – an Associate armed with dual law degrees — a JD and LLM in Taxation, and leveraging a background in taxation and business valuation — Nicole helps private, family-owned business clients chart sensible courses in matrimonial matters, Nicole joins our Divorce & Family law practice.
Robert J. Levine – is an Of Counsel with 30 years of experience working with small family-owned businesses, middle market companies and large multi-national corporations on debt financing, structuring and restructuring, equity transactions, M&A, sell-offs, operating agreements, shareholder agreements, employment and severance agreements, Rob joins our Corporate and Real Estate law practices
John P. Corrigan – is an Of Counsel attorney and a CPA with an MBA and 30 years' experience in contracts, M&A and formational transactions, executive compensation agreements, corporate, LLC and personal income tax planning and wills, trusts and estates, there is little John has not encountered. John joins our Trusts & Estates and Corporate Law practice as Of Counsel.